Vanguard & Vanguard+ Electric Radiator
Modern looks, lighter than most quality heaters, ceramic core gives even heat, top mounted controls.
One of the best heaters in the mid to higher price.
Key Radiator Ratings
Heating Speed
9/10 The vanguards do heat quickly and effectively. The rooms start to deal the heat in 10-15 minutes.
Thermostatic Control
8/10 Well thought out controls with a thermostat and timer with 9 presets. It even has a consumption meter built in.
The top mounted controls appeal to a lot of users, particularly if they have limited space or physically struggle to get down to side mounted controls.
You can purchase a Wi-Fi gateway allowing App control.
Ease of use
8/10
Efficiency
To be confirmed.
---
Electric Radiator features
  Ceramic core with high thermal inertia, able to continue emitting heat for a long period of time
  Even temperature distribution over the surface.
  Top quality injected aluminium body means a light and strong product.
  Durable powder coat finish RAL 9010.
  Silent operation: digital regulation with Triac control.
Digital Programmable Control is placed on the top with the following functions:
  Proportional Regulating System (PID) for very accurate temperature control
  Intelligent Control System (ITCS), the radiator learns the heat up characteristics of the property and turns on at the right time to give the comfort required.
  Programmable via radiator (weekly programming, 9 preset programs and 4 customs).
  Energy consumption meter (last 24h, 7 days, 30 days).
  Open Window function.
  Comfort, economy and frost protection modes.
  Easy use function.
  Reduced surface temperature function.
  LCD screen.
  Security Thermal Control.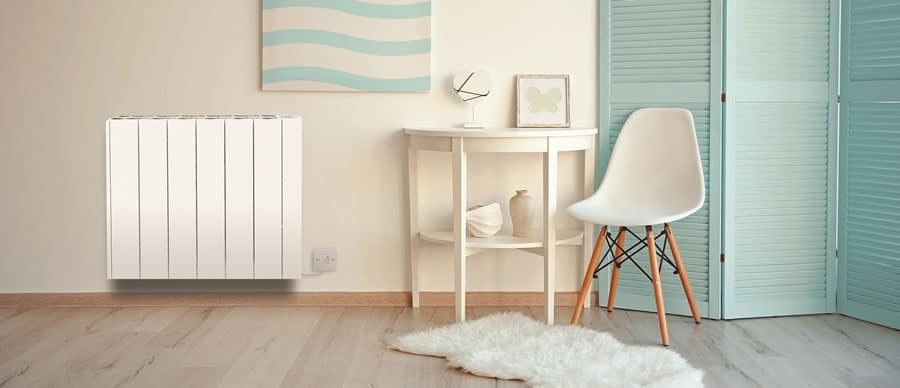 Radiator Summary
Well made radiator with impressive performance. Stylish and well thought out.